Skip to Content
Hardwood Installation in New York, NY
Professional Hardwood Floor Installations
A professional installer will have the experience and knowledge to install different types of hardwood flooring and the specialized skills required for a successful installation. It's also important to remember that a professionally-installed hardwood floor will more likely be covered by your manufacturer's warranty.
Installation methods vary depending on the width, thickness, and construction of the flooring as well as where the flooring is installed. Solid hardwood flooring can be stapled, nailed, or glued to a subfloor layer, though it is more sensitive to humidity and temperature. Engineered hardwood can be installed almost anywhere since it is not sensitive to either. This makes it a great choice for use in basements, bathrooms, and kitchens.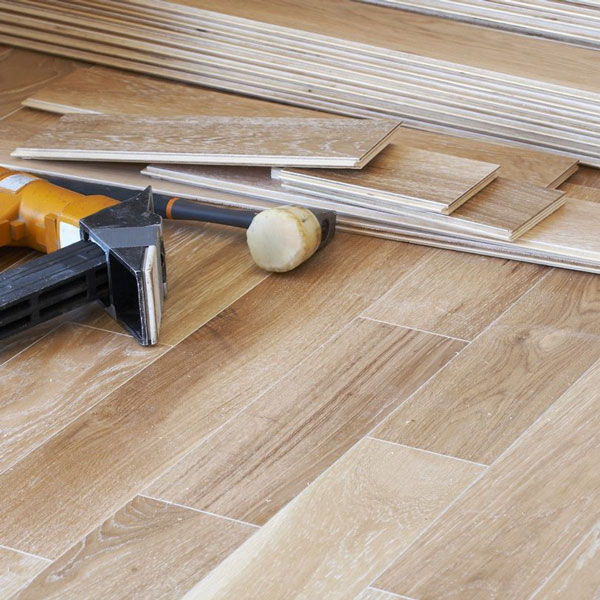 Preparing for Installation
You may have to remove your existing flooring to make a suitable installation surface for your new hardwood. This process will depend on the existing flooring; extra care may be required if your previous flooring is glued down or set in tile adhesive. Having this work done professionally can be a huge help since a professional will know when the subfloor is ready and can help you dispose of your old flooring.
You will also need to empty the room of furniture. Consider hiring a moving service for large or heavy items. It's also a good idea to take down photos or other items hanging on the wall, as these can be damaged during the installation of your hardwood flooring.
During and After Installation
An adult member of your household (age 18 or older) should greet the installation crew upon arrival and show them to the work area. Keep children and pets away from the work area for the duration of the job, and stay off your new floors for the required amount of time after the job is done. Any stain or varnish that has been applied will need time to cure properly. The lead installer will be able to advise you on how long this will take. Finally, open windows for ventilation if the smell of the varnish or stain bothers you.
Schedule an Appointment With Our Team Today